Adding tracking trailers to your Motrec tow tractor, carrier or stock chaser lets you instantly boost productivity with minimal effort and cost. With their tight turning radius and heavy-duty capacity, our industrial trailers are strong and sturdy, but also highly maneuverable.
All-steel, multi-purpose designs
Load capacity from 750 to 9,000 lbs
Can be fully customized
Compatible with all Motrec vehicles
Wide variety of hitches available
Heavy-duty industrial trailers ready for customization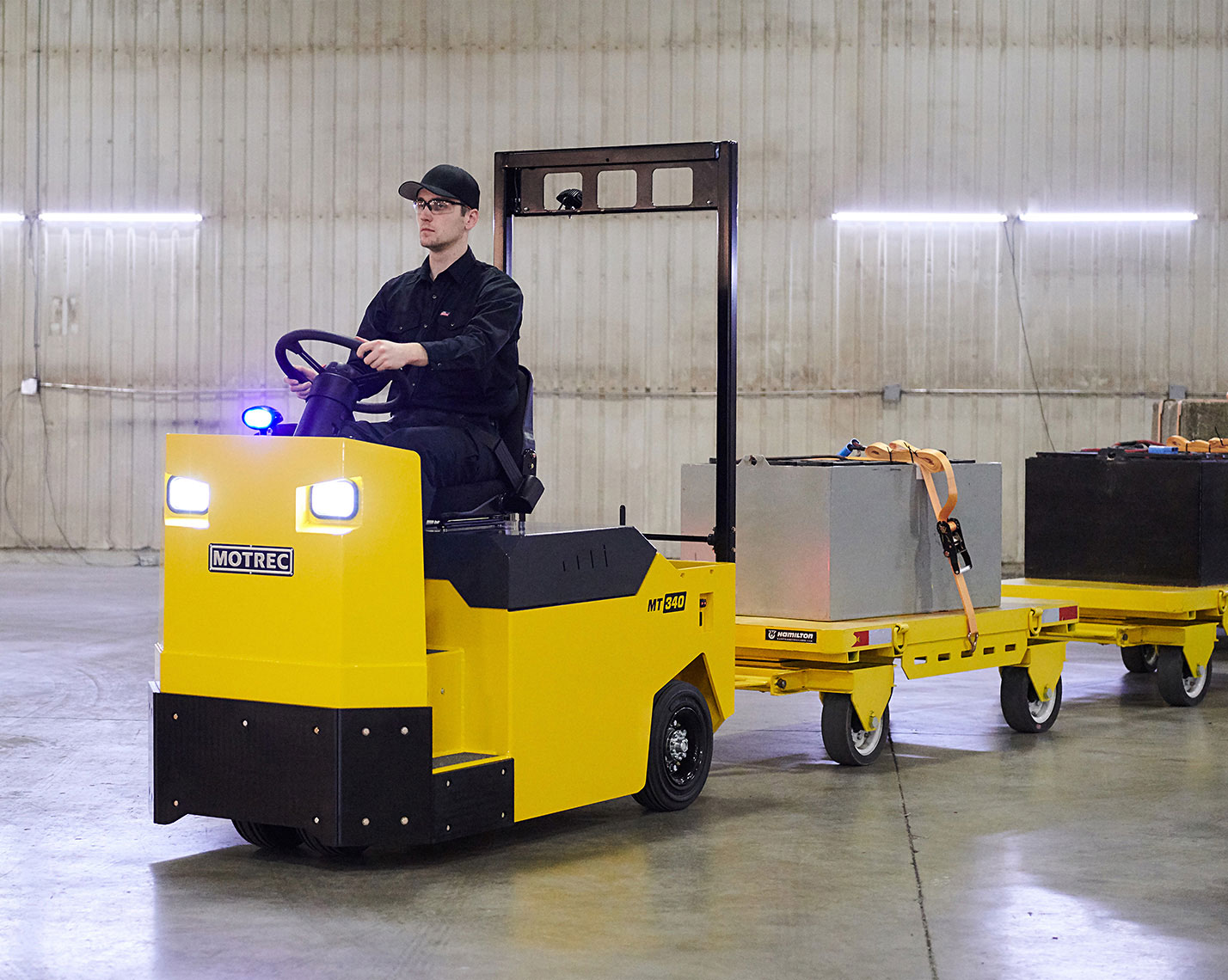 Rugged, safe and custom trailers exclusively made by Hamilton Caster for Motrec International
Hamilton Caster, a well-established and trusted manufacturer of casters, wheels, carts and trailers, unlocks endless new product possibilities and more options.
This collaboration enables Motrec and Hamilton Caster to meet customer's needs on a whole new level. With complementary products now provided through a unique point of contact, dealers and customers have the most to gain from this synergy and will benefit from a turnkey solution.
ENGINEERED FOR EFFORTLESS LEAN PRODUCTIVITY
Strong, sturdy design with high beds and large steel decks
Accommodates virtually any kind of load
Adapted for rear forklift loading
Ensures accurate tracking in multiple trailer train application; follows the same path as the vehicle
Perfectly adapted to Motrec vehicles
Narrow enough to fit through doorways, elevators and just about any jobsite
BUILD FOR YEARS OF HEAVY-DUTY WORK AND PERFORMANCE
Sturdy, all-steel welded construction
Trailers are strong enough to work on their own or as a train of multiple trailers
Extra-heavy-duty towing tongue connecting to the trailer framework
Load capacity from 750 to 9,000 lbs
Rugged, efficient design makes hitching and towing safe, easy and productive
NEED INDIVIDUAL OR MULTIPLE TRAILER TOWING?