| MX 480 model | Passengers | Load capacity | Towing capacity | Speed | Turning radius |
| --- | --- | --- | --- | --- | --- |
| 48V | 2 | 2,750 lb | 6,000 lb | 10 mph | 133″ |

CONSOLE
Console on steering column
Complete console on steering column to put all controls and displays conveniently right where your fingers and eyes are. Now with a tilted steering column for a more ergonomic and natural driving posture to reduce operator fatigue and strain.

BUMPERS
Reinforced bolt-on front bumper
Protects vehicle components from damage and keeps maintenance costs low. Equipped with anchors for easier towing. Bumpers are easy to replace when needed. An easy, low-cost way to protect your investment.

AC POWERTRAIN
High-efficiency asynchronous AC / Direct Drive motor
Offers better control for full motor performance, as well as higher possible speeds and better torque at low speeds. Maintenance-free brushless electric motor equipped with temperature and speed sensors.

CONTROLLER
AC controller with sealed connectors paired with multifunction display
Allows for precise speed control for greater safety and vehicle performance. Includes indicators for speed, battery state of charge, hour meter, odometer and fault warnings. Password-protected parameters and monitoring capability.

CAB
Safe and comfortable all-steel cabs
Protects operators and everyone around them. Our customizable cabs come with a long list of standard and optional features: lockable/Mika/removable doors, canopy top, ladder/pipe rack, wipers, rear-view mirror, sliding windows with safety glass, heater, air conditioning, cab-mounted strobe light, cab sound proofing, rust proofing… the list goes on and on.

BRAKES
Powerful automatic electromagnetic parking brake
Increases safety by automatically applying the parking brake whenever the vehicle stops moving or is shut off. Also doubles as an emergency stop. Entirely sealed to protect it from debris, elements, etc.
48V

Powertrain

Motor

15 hp Brushless AC motor

Drive Axle

Helical gear differential

Transmission

Direct drive

Controller

AC Electronic speed controller

Energy

Voltage

48V

Battery

Eight 6V-225AH batteries

Charger

High-frequency charger (85-265VAC / 45-65Hz, 1kw), Built-in and automatic

Chassis

Body

All-steel unibody construction, Powder coating

Suspension

Front dual leaf springs suspension, Rear dual leaf springs suspension

Brakes

Rear hydraulic drum brakes, Electromagnetic parking brake with manual hand release, Regenerative braking

Wheels

5.7x8 LRD pneumatic tires

Steering

Automotive steering wheel, Tilted steering column

Seats

Two premium seats on slide adjusters

Equipment

Lights

Dual LED headlights, Tail/brake lights, Dual back-up lights

Indicators

Multifunction display (including speedometer, battery state of charge, hour meter, odometer and fault warnings), Password-protected parameters and monitoring capability

Accessories

Console on steering column, Bolt-on front bumper, DC/DC converter, LED charge indicator, Full-sized 7-drawer tool chest, 3 lockable compartments, Ladder/pipe racks, Extinguisher, Vice

Safety

Deadman seat switch, Reverse alarm, Horn

Specifications and standard equipment are subject to change without notice.
48V

Vehicle dimensions

Height

86.5″

Length

126.5″

Width

45.5″

Wheel Base

58″

Deck dimensions

Deck Height

42.5″

Deck Length

79″

Deck Width

45.5″

Specifications and standard equipment are subject to change without notice.
Customers often order the same group of options. So we created a number of packages to make building your perfect vehicle easier than ever.
If one of our option packages isn't quite what you need, our long list of options will fit the bill. Here are just some of our more popular options. Contact us for the complete list.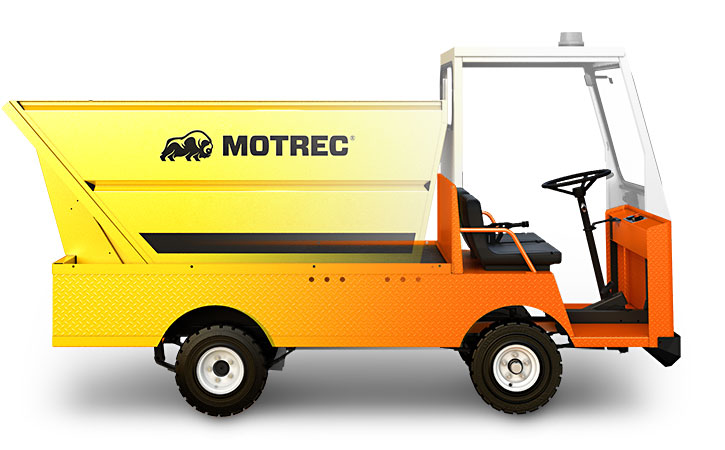 Starting with greater productivity and safety. Less maintenance and lower TCO, too. Whatever the degree of customization needed, our engineering team will get your vehicle to you quickly and for less than you might think. Our handy ordering and quote request tools also make the process extremely easy.