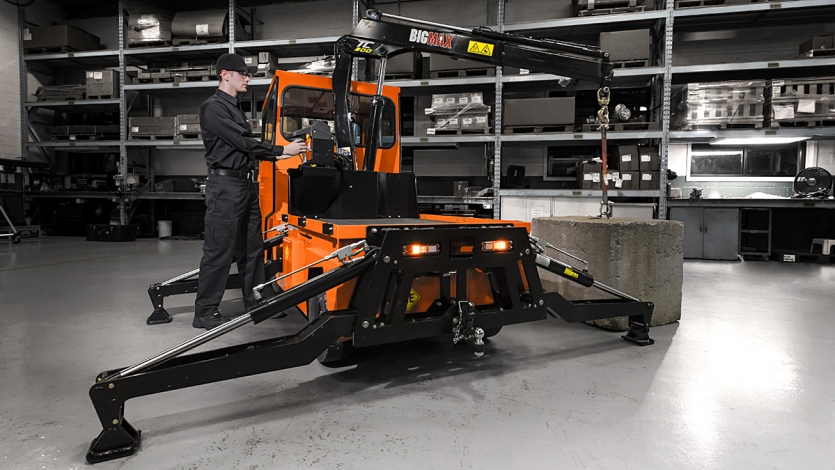 New MX-480 Crane Truck makes heavy lifting a sure thing
Operators who regularly need to access, lift and haul heavy loads in tight spaces will like what they see with the Motrec MX-480 Crane Truck. This newest addition to the Motrec family of hardworking electric industrial vehicles offers all the lifting power and reach of a much larger machine, but in a much more compact and easy-to-maneuver design – without any loss of balance.
The MX-480 Crane Truck is not only compact; it's also customizable. What's more, it boasts an impressive 150″ turning radius along with a long list of standard features for optimizing performance and lowering maintenance, such as a high-efficiency AC powertrain and controller, direct drive differential and large drum brakes.
Much more efficient and safer than a chain block
"Worrying about stability and lifting power when handling heavy loads is no laughing matter – especially when you have little room to maneuver. That's why we designed the MX-480 Crane Truck to be a compact yet extremely powerful multi-purpose workhorse. It can access cramped spaces other lift systems cannot and still safely lift up to 2,000 lbs. Its extendable, rear-facing telescopic crane offers impressive reach, while four hydraulic outriggers ensure worry-free stability."

– Jocelyn Gagnon, Eng., Director of Engineering & Innovation
And like all Motrec electric vehicles, the MX-480 Crane Truck is a sturdy, easy-to-operate vehicle that offers excellent maneuverability, traction and braking—even when hauling heavy loads.
Standard features
Extendable, rear-facing boom crane
4 hydraulic outriggers for stable hoisting for up to 2,000 lbs
6,000-lb towing capacity
Time-saving roll-out battery compartment for quick and easy battery changes so that you can keep vehicles running round-the-clock
High-efficiency, low-maintenance asynchronous AC / Direct Drive motor train for better control and full motor performance, higher possible speeds and better torque at low speeds
AC controller with sealed connectors paired with multifunction display for precise speed control, greater safety and better vehicle performance
Rear hydraulic drum brakes with regenerative braking and electromagnetic parking brake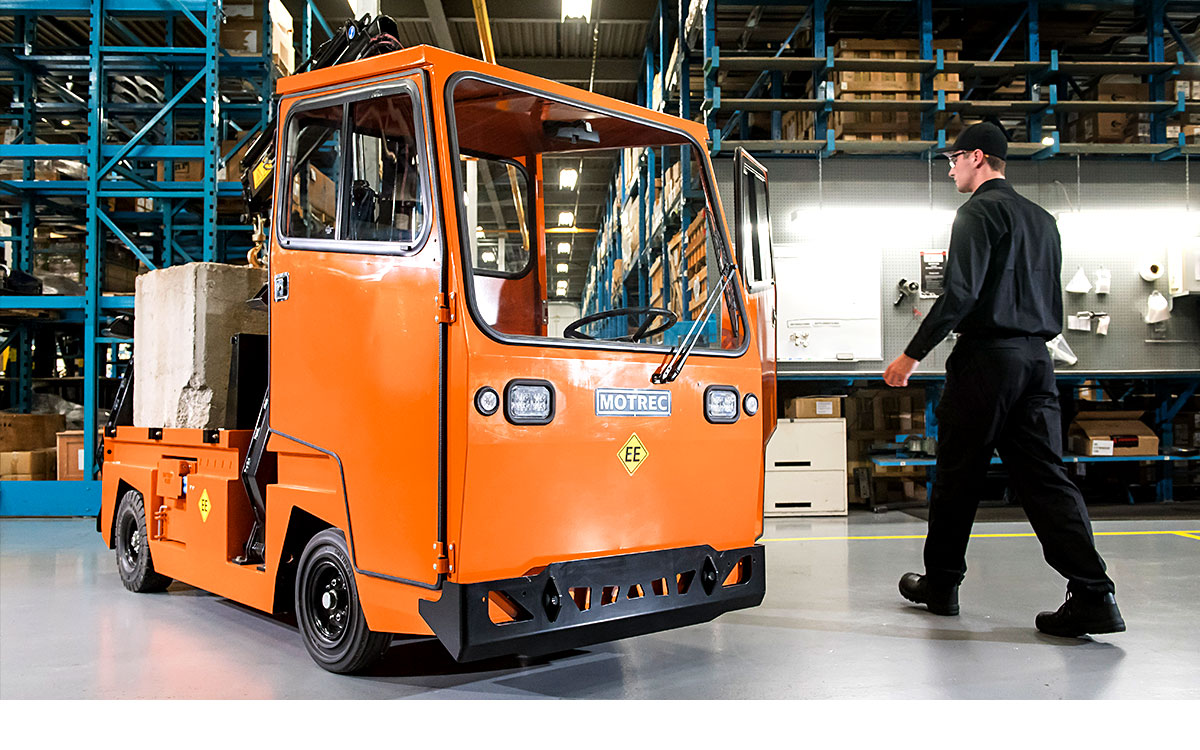 Our customized vehicles don't disappoint
"Like all Motrec vehicles, the MX-480 sets us ahead of the pack. This one-of-a-kind model offers modularity, versatility, efficiency and safety. Many vehicle manufacturers are moving away from industrial and heavy manufacturing; Motrec, on the other hand, is making it a priority to create better tools to support our customers. When the going gets tough, the tough keep going and you can count on us."

– Robin Charest, EMBA, Director of Sales and Business Development
Most Popular Options
Steel cab and doors, wiper, rearview mirror
Headlights on key switch
Blue safety light
Strobe light
Retractable seat belts
Dual shock absorbers on front and rear
Solid soft rubber wheels
251 AH batteries
And more