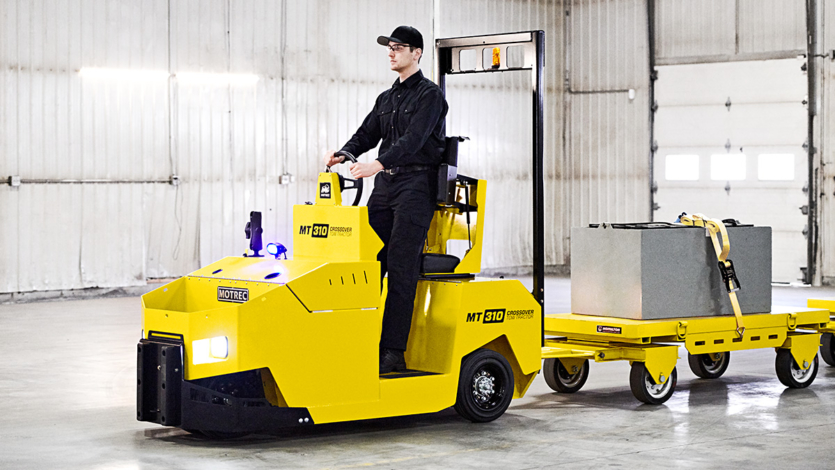 New MT-310 Crossover Tugger – On-Demand Standing/Sitting Driving Position
Motrec's line of tow tractors has long set the bar for innovation, productivity and safety. And obviously, customization, since these vehicles are built by the leader of customizable electric industrial vehicles. But now there's even more reason to keep these hard-working tuggers on your radar.
Motrec has just introduced the MT-310, a brand-new crossover tugger that's jam-packed with bumper-to-bumper innovations that will make a serious difference where they matter most – namely in the areas of productivity, durability, maintenance, and safety.

Motrec's new sit-down / stand-up seat makes it easy for operators of virtually all shapes and sizes to work comfortably from a wide range of driving positions. Operators simply pull up on the seat to raise it to the standing position; they simply push down to lower it to the desired sitting position.
Meets all safety & union regulations
One-touch adjustable seat minimizes fatigue & chronic pain during long shifts
Ergonomic seat with wider backrest & lateral support is as comfortable when seated as when standing
No impact on vehicle stability or turning radius
Optional side-arm keeps hitch release always within reach – no need to step off the vehicle or even turn around
Throw in the MT-310's 16,000-lb towing capacity and you've got an extremely reliable electric industrial tugger that can tackle tough tasks while keeping operators comfortable and safe
But don't take our word for it. Check out the MT-310's long list of features for yourself:
Standard MT-310 features
New sit-down / stand-up seat with a wide range of ergonomic driving positions
Single pedal for acceleration and braking for greater stability
Leaf springs rear suspension system
Standard AC powertrain & multifunction display
Central driving position with easy step-on / step-off from both sides
Rear hitch within easy sight from driver's seat
Signature recessed dual headlights and dual tail, brake, reverse and turn signal lights
Flat-free solid softy tires for better durability, reliability and stability
Fully protected electrical components to boost safety and lifespan
Sealed laser-engraved backlit buttons
Compatible with fast-charging batteries
USB charger, 12V DC 10A plug
Heavy-duty key sealed from water and dust
Fully tested standard Motrec tow tractor parts to streamline inventory
Need even more from your vehicle? Like all Motrec vehicles, the MT-310 can be custom-built to your exact needs.
"Motrec has always focused on innovation without ever losing sight of the customer's chief concerns: long-term reliability, no-fuss maintenance, and safe and easy operation. Like all Motrec vehicles, we carefully configured the MT-310 electric tugger with these criteria in mind. We also subjected it to ridiculous amounts of testing so that we could offer the most efficient maintenance plan possible."

 – Jocelyn Gagnon, Eng., Director of Engineering & Innovation at Motrec
See full MT-310 specifications or speak to a Motrec dealer near you.