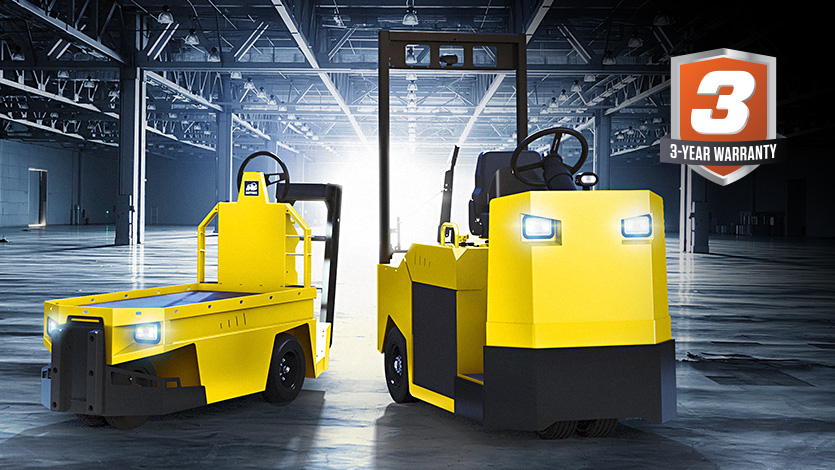 Motrec is reinventing its flagship products to dominate the market of horizontal material handling equipment.
THE GAME-CHANGING STOCK CHASER
The new generation MS-260 unit offers new specs and features which will raise the standards in the industry, such as:
Leaf springs standard suspension
Up to 6,000 lbs. towing capacity and 1,750 lbs. load capacity
AC powertrain technology*
2 step ladder
Recessed lights
Robust front bumper*
Safe recharging with ignition lock
Storage compartments
Anchors for loading
Laser-engraved and sealed backlit buttons
USB charger, 12V DC 10A plug
Protected electrical components
"We are thrilled to introduce this new unit. Our product development process was rigorous and we made sure to offer a product that would exceed customer expectations. Reliability, Productivity and Safety are the DNA of this new unit".

– Jocelyn Gagnon, Eng., Director of Engineering & Innovation
THE ULTIMATE TOW TRACTOR
The MT-340 is the undisputed champ of compact tow tractors. The major upgrade of this vehicle introduces multiple added value elements, such as:
Leaf springs and shock absorbers standard suspension
Up to 20,000 lbs. towing capacity
Inching control to facilitated trailer hitching
Bolted on ¾" (UHMW) front and lateral bumpers*
Recessed lights
Robust HD front fork
Flat-free solid softy tires
Protected electrical components
Laser-engraved and sealed backlit buttons
Heavy-duty key sealed from water and dust
"Motrec is already known for the quality and versatility of its tow tractor business.  The multiple improvements on the new models offer no comparison to what is already available in the market.  The MT-340 was already a very efficient unit, but it is now unbeatable and we are very excited for the customers to experience the difference".

– Robin Charest, EMBA, Director of Sales and Business Development
OUR VEHICLES KEEP GETTING BETTER. SO DO OUR WARRANTIES.
Whether it's a no-frills stock chaser or a fully customized tow-tractor, you can expect more from a Motrec vehicle. Now you can expect more from your Motrec warranty.
3-YEAR LIMITED WARRANTY ON

All Motrec vehicles with AC technology
Our MS-260 stock chaser
All Motrec trailers

2-YEAR LIMITED WARRANTY ON

All Motrec vehicles with DC technology
All other Motrec vehicles
Learn more about our new warranties
WIND IN ITS SAILS
Motrec has been gaining substantial market shares in the past few years and is taking actions to strengthen its leading position.
The entire Motrec's team strongly believes those newly released and upcoming products combine our wide range of skills and vast experience. This will uphold the reputation of Motrec for building long-lasting products that take your productivity to the next level.
For more information, visit the MS-260 and MT-340 pages, or consult the Find a dealer section in order to identify the nearest dealer and obtain prices.
MOTREC. UNBEATABLE.
* Optional