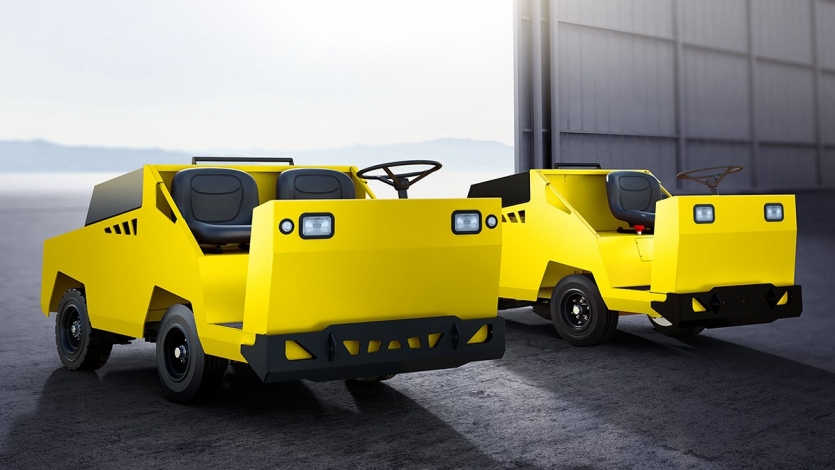 MT-440: So much power in such a compact and maneuverable vehicle
The MT-440 is a compact and versatile two-seater, four-wheel workhorse that can haul up to 30,000-lb loads over long distances with impressive stability and agility – both indoors and out, even on grades.
The MT-440 comes in several versions, including the base 48V model, the slimmer 48V Narrow with just one seat for navigating extra-tight spaces, and the heavy-duty 80V model with a hefty 30,000-lb towing capacity. There's also an IC internal combustion model for those looking for a gas-powered vehicle. All models can be equipped with an optional cabin, making this hard-working vehicle even
more versatile.
In terms of performance, there's plenty to like about the MT-440. Standard features include a high-efficiency AC direct-drive powertrain*, all-wheel braking for safer operating as well as front- and rear suspension with added shock absorbers on front for greater comfort. The electric powered versions come equipped with an oversized industrial battery to lengthen running time, along with solid soft rubber wheels for added durability and lower maintenance costs. Maximize the potential of the MT-440 by adding multiple trailers.
"We know that operators need vehicles they can rely on to get their toughest jobs done, but they also need to know they'll be able to do so safely and comfortably. That's why we designed the MT-440 to offer more than just power. It's also extremely stable and maneuverable, highly robust and very low-maintenance. It takes a lot of stress out of the operator's day-to-day."

– Jocelyn Gagnon, Eng., Director of Engineering & Innovation at Motrec
The MT-440 has it all: power, maneuverability, stability and comfort – all in a compact and highly rugged all-steel design. And like all Motrec vehicles, it can be customized from bumper to bumper.
Want to know more? See full MT-440 specifications or speak to a Motrec dealer near you.
*For the 48V and 48V Narrow models only.