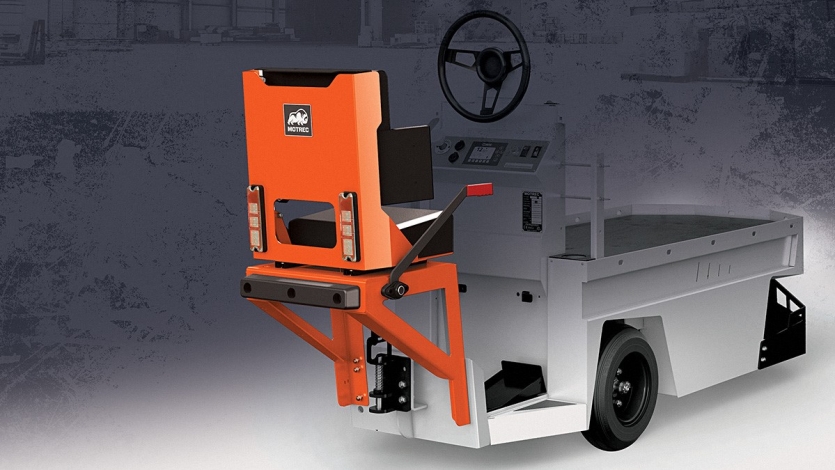 Fan of our MS-260 stock chaser? You'd better sit down for this…
What could be more versatile than a stand-up stock chaser? How about a stock chaser that lets you also sit down whenever you feel the need?
With Motrec's new sit­-down / stand­-up seat, operators can now comfortably work from a wide range of driving positions. Simply pull up on the seat to raise it to the standing position. Simply push down to lower it to the desired sitting position. It's that easy and convenient.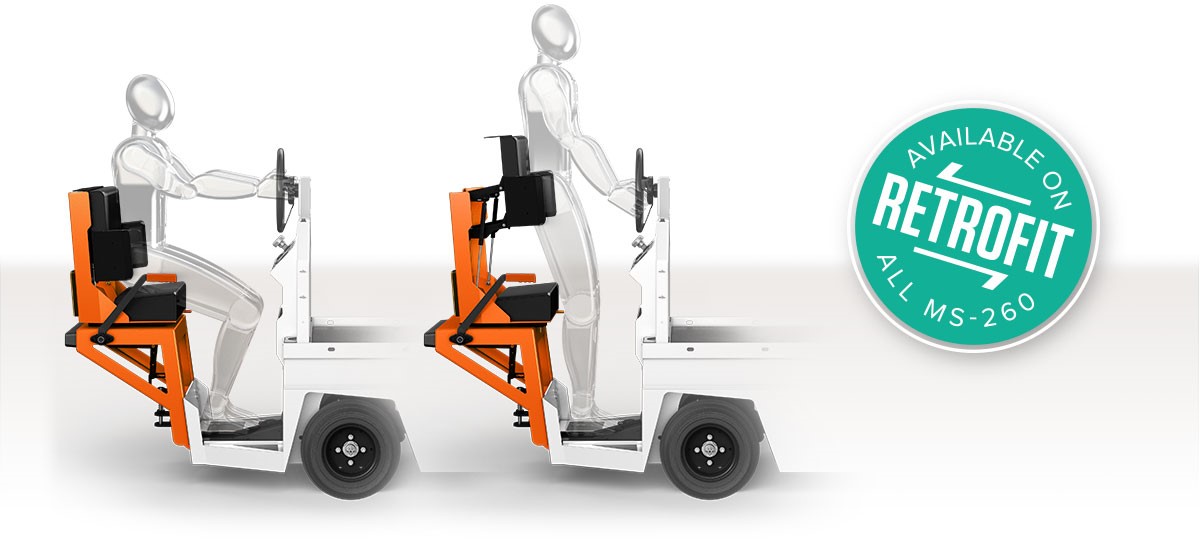 "Innovation has always been part of Motrec's culture and our new stand-up / sit-down seat is proof of this. Our R&D team constantly consults Motrec users to better understand their needs, and works hard to come up with high-quality accessories that make their day-to-day operations easier, safer and more productive. With its long list of ergonomic and time-saving features, this versatile new seat is going to make a lot of operators very happy – and much less sore at the end of a long day."

 – Jocelyn Gagnon, Eng., Director of Engineering & Innovation at Motrec

True to the Motrec brand, the seat's design is not just smart; it's also incredibly rugged and safe.
The addition of the seat has no impact on vehicle stability or turning radius, and the optional hitch release system remains within easy reach. No need to step off the vehicle or even turn around. Need to also use the rear ladder on your MS-260? Switching between the seat and ladder configurations can be done in just a few minutes.
"One of the main reasons why Motrec vehicles are so popular is that we make it a priority of putting ourselves in the user's seat to better understand what features will make their workday more enjoyable and efficient. We even thought of our current MS-260 owners and made retrofitting possible. Every customer is unique – just like this new feature. These are the types of innovations that the Motrec team lives for. Seating is believing."

 – Robin Charest, Director of Sales at Motrec
Features of the MS-260 stand-up / sit-down seat
One-touch adjustable seat offers a wide range of driving positions
Accommodates various operator heights, weights & driving preferences (*up to 250 lbs)
Meets all safety & union regulations
Ergonomic seat has wider backrest & lateral support – operators are as comfortable seated as they are standing
Ability to adjust driving position minimizes fatigue & chronic pain during long shifts
Flexible standing/seated driving position makes a great bridge between tow tractor & burden carrier
Seat configuration can be added as an upgrade on new models or retrofitted on existing models
Seat & rear ladder configurations are easily interchangeable to minimize downtime
Rugged metal construction with rear bumper is built for long-term use
Grease-free plastic seat bushings means zero maintenance
Long list of options include hitch release, tail lights, strobe light, and more
Want to know more? Request a quote or speak to a Motrec dealer near you.