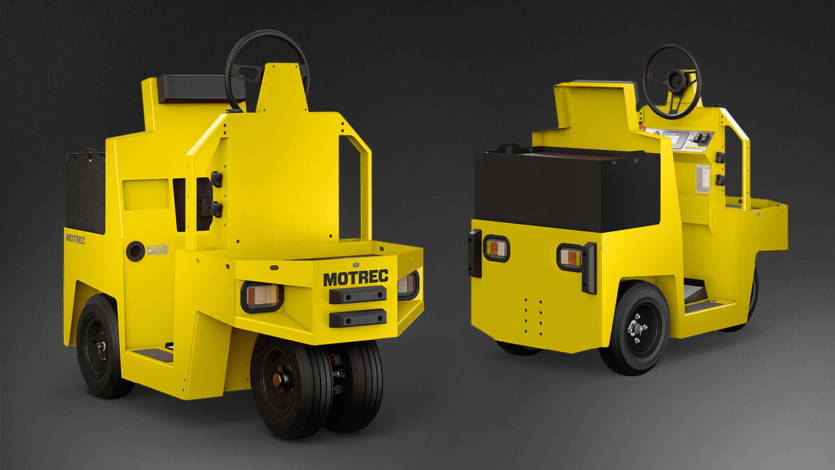 Motrec MT-160 Stand-Up Tow Tractor
Few tow tractors can easily fit through narrow doorways and corridors – let alone maneuver a tight 360° at a maximum speed of 6 mph while hauling a 6,000-lb load without any loss of stability. The Motrec MT-160 can, safely and comfortably.
Even better, it can do with 50% longer run time – thanks to its highly efficient maintenance-free 36V and 48V AC motors.
Which is great news for industrial clients looking to keep their materials handling equipment emission-free and running around the clock: They now have access to an electric industrial vehicle that's powerful yet narrow and nimble enough to safely maneuver tight spaces.   All while delivering years of dependable performance with minimal maintenance.
Its narrow body also makes it a great fit for commercial and institutional clients – who know the challenges of maneuvering tight corridors all too well. These customers will especially appreciate the fact that the MT-160 can be fully customized.
Bumper-to-bumper value
We've packed so many features into the newly revamped MT-160 tow tractor that it's a miracle they all fit in its slender 30-inch-width frame.
Here are just a few of the enhancements we've made:
More powerful 10 HP 36V and 15 HP 48V models with low-maintenance brushless AC motors
Run time increased by 50%
Towing capacity increased by 50% (from 4,000 to now 6,000 lbs)
Maximum speed increased to 6 mph (was 5 mph)
Time-saving lift-out battery box
Automatic electric parking brake
Self-adjusting hydraulic drum brake with regenerative braking
18" wide front and rear decks for carrying merchandise, making it a good stock chaser
We also made the MT-160 safer and more comfortable for operators. You'll now find an upgraded standard suspension, anti-fatigue mats in the driver console and a lower central driving position for easier step-on/step off. But don't worry. We kept the stability-boosting dual front wheels, ergonomic light touch controls, padded backrest and 360º visibility.
That's not all.
Check out the MT -160 product page to see the full list of features & specs.
You'll also find more information about how to customize your Motrec vehicle and how to request a quote.