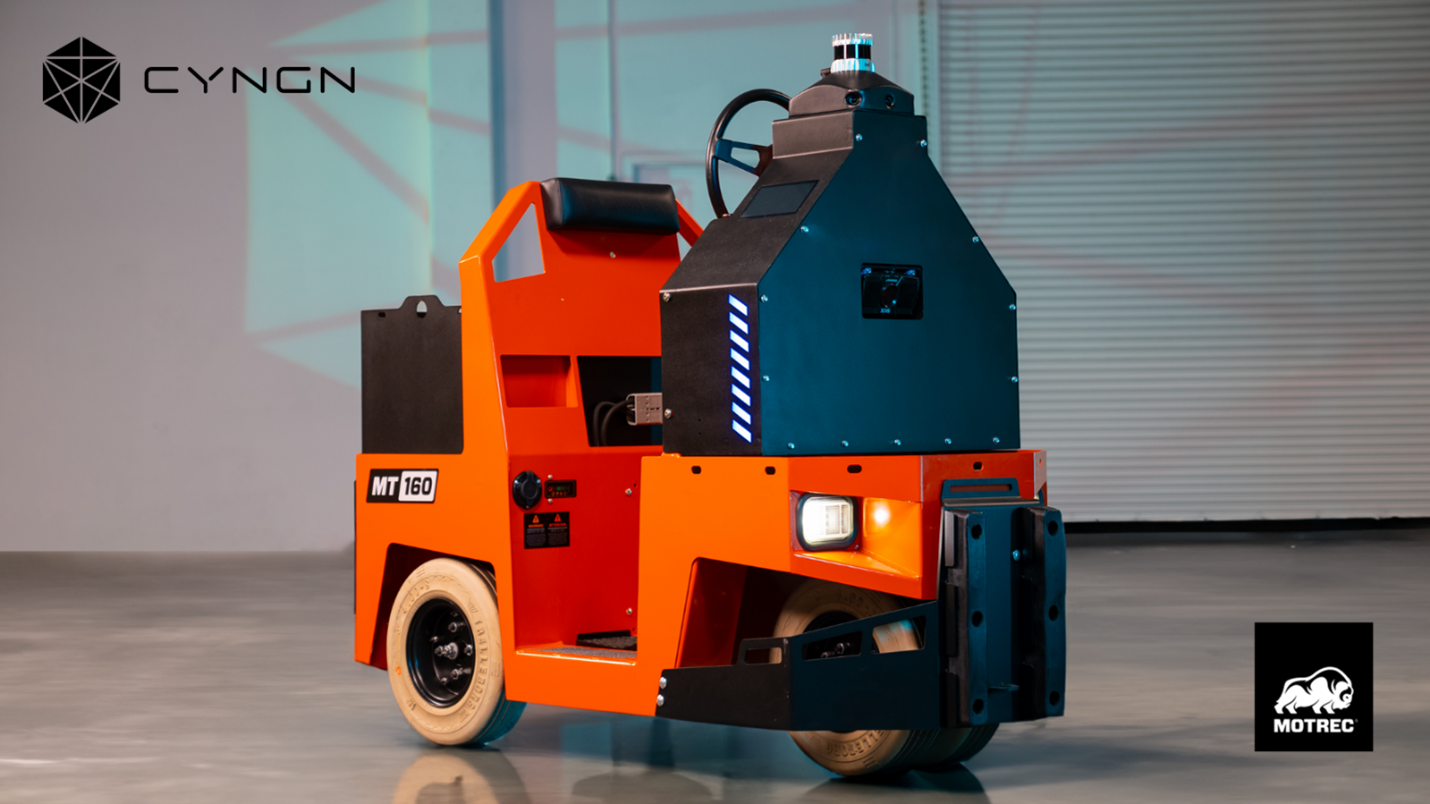 Motrec introduces the fully autonomous electric tugger for industrial operations.
Following the announcement of Motrec International innovation with a technology partner, one of the first hybrid tractor on the market capable of manual or autonomous driving will be ready to operate shortly. This is the first of many in a series of equipment offerings, featuring an automatic hitch disconnect capability, able to tow up to 6000 LBS with a minimized turning radius of 54 inches.
Cyngn, a developer of AI-driven autonomous software solutions for industrial applications, is excited to present its latest innovation: the integration of its DriveMod kit with Motrec MT-160 tow tractor. Designed for industrial, commercial, and storage operations, this Motrec autonomous electric tugger will make its initial debut with selected Cyngn customers in the fourth quarter of 2023 and then expand to a broader audience in 2024.
This initial presentation is part of a previously announced partnership to launch a cutting-edge autonomous tow tractor, the "DriveMod Tugger," featuring a 54-inch-turning radius and 6000 LBS towing capacity.
This first tug leverages the power of hybrid autonomous/manual driving through a variant of the DriveMod kit installed on the Motrec MT-160 model platform. This kit streamlines the integration of autonomous vehicle (AGV) components, building on the system architecture established with the DriveMod Stockchaser. Whether installed directly on a new Motrec vehicle or adapted to existing tractors, the DriveMod kit ensures an efficient implementation process, allowing customers to quickly benefit from Cyngn's advanced autonomous technology.
At the heart of the exceptional Motrec tugger's performance is an alternating current (AC) powertrain with a low-maintenance brushless electric motor. This design provides precise motor control, higher maximum speeds, and improved torque at lower speeds. Furthermore, Cyngn introduces an automatic trailer hitch disconnection feature, eliminating the need for human intervention when releasing trailers from the Motrec tow tractor. This innovation addresses operational issues and inefficiencies related to manual cargo handling, resulting in reduced labor and workflow inefficiencies.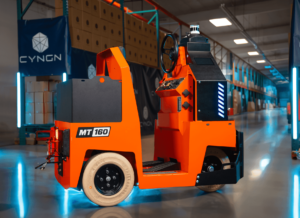 Lior Tal, CEO of Cyngn, emphasized the significance of this milestone, stating: "Our partnership with Motrec represents a pivotal moment in our mission to revolutionize industrial automation. We are collaborating with industry leaders like Ouster and Nvidia to enhance the user experience and enrich industrial operations with valuable data. Our sustainable autonomous solutions aim to improve cargo transport cost-effectively and safely. This partnership with Motrec builds on both companies' strong reputations and integrates Cyngn's cutting-edge autonomous vehicle technology."
"Motrec has always focused on innovation while keeping customers' core concerns in mind: long-term reliability, low maintenance costs, and safe and easy operation. We are very proud to move towards autonomy in collaboration with Cyngn and look forward to quickly offering these autonomous vehicles to our customers," said Benoit Gagner, Motrec's Director of Technical Services.
Stay tuned for more details on the autonomous vehicles that Motrec will offer in 2024.
Forward-Looking Statements
This press release contains forward-looking statements within the meaning of the Private Securities Litigation Reform Act of 1995, Section 27A of the Securities Act of 1933, as amended, and Section 21E of the Securities Exchange Act of 1934, as amended. Any statement that is not historical in nature is a forward-looking statement and may be identified by the use of words and phrases such as "expects," "anticipates," "believes," "will," "will likely result," "will continue," "plans to," "potential," "promising," and similar expressions. These statements are based on management's current expectations and beliefs and are subject to a number of risks, uncertainties and assumptions that could cause actual results to differ materially from those described in the forward-looking statements, including the risk factors described from time to time in the Company's reports to the SEC, including, without limitation the risk factors discussed in the Company's annual report on Form 10-K filed with the SEC on March 17, 2023. Readers are cautioned that it is not possible to predict or identify all the risks, uncertainties and other factors that may affect future results No forward-looking statement can be guaranteed, and actual results may differ materially from those projected. Cyngn undertakes no obligation to publicly update any forward-looking statement, whether as a result of new information, future events, or otherwise.