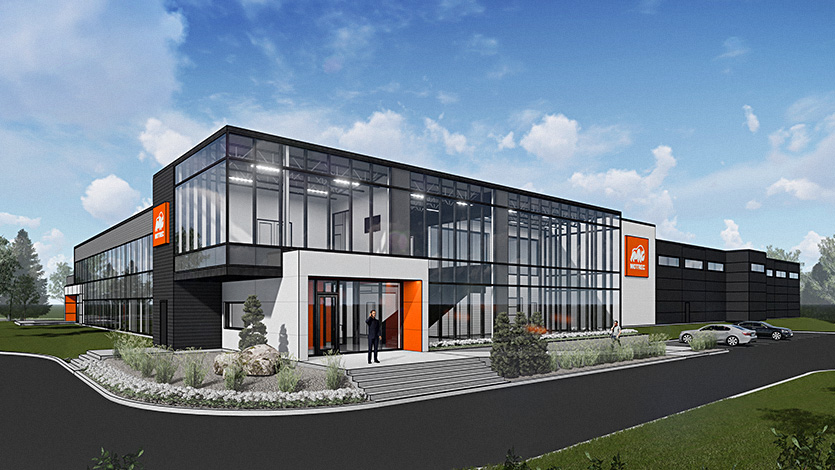 Motrec Invests Nearly $10M in New Sherbrooke Facility
Motrec International has begun work on a major expansion project consisting of the construction of a new production and administrative office facility in the new Sherbrooke Industrial Park.
Strong growth in recent years has left the world-renowned manufacturer of electric industrial vehicles cramped for space in its current facilities. The new 70,000 square-foot plant, located at the corner of Portland Boulevard and Robert-Boyd Street, will allow the company to eventually triple its production capacity and will also double as Motrec's head office.

To complete the project, Motrec is investing nearly $10 million in state-of-the-art facilities and equipment.
This stimulating and productive environment will be central to Motrec's goal of enabling the company – and its employees – to reach new heights. The expansion project also includes a new product showroom on Portland Boulevard where the public will be able to view Motrec's vast range of electric industrial vehicles.
"Our team and valued partners have worked extremely hard over the last few months to get this major project up and running," said Blair McIntosh, President and CEO of Motrec International.

"These new facilities, fuelled by our strong culture of innovation, will translate into greatly increased capacity, productivity and competitiveness on the global market. Not only will this create value for our company, but for the surrounding region as well."
The expansion project also reconfirms Motrec's commitment to the City of Sherbrooke and its thriving business community. The company says it will be creating many new jobs as a result of the project, which will further boost the economic health of the region and its manufacturing industrial base.
"We are building on a strong momentum that will bring significant new opportunities to Sherbrooke," said Richard Gagnon, General Manager Operations. "We are always looking for both new talent and seasoned workers to join our hardworking team."
Operations are slated to be relocated to Motrec's new facilities in early 2018. Motrec's current manufacturing and office facility in the neighbouring borough of Brompton is currently up for sale.