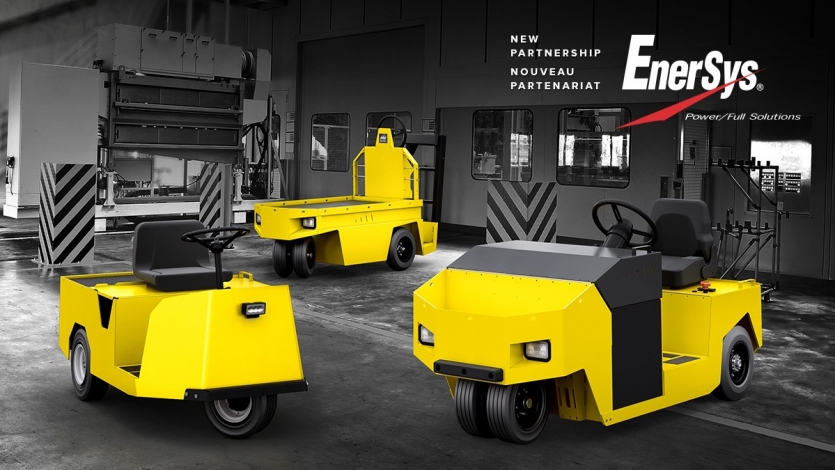 Charging ahead: Motrec partners with EnerSys
NexSys® batteries deliver three times the lifecycle of conventional sealed batteries, offering a flexible, virtually maintenance-free energy solution.
These batteries can be fully recharged in as little as two hours and are designed for opportunity charging multiple times per day. Resulting benefits may include enhanced battery life and reduced Total Cost of Ownership. Both factors of utmost importance for Motrec's long list of customers.
"'Innovation' and 'Productivity' are among our key company pillars, and NexSys® batteries certainly support both. Selecting this battery option for their electric vehicle fleets will give our customers another tool to help them reduce maintenance and boost productivity. Motrec offers unbeatable industrial vehicles, rugged trailers and now quality batteries through our new partnership with EnerSys – all under the same roof, factory installed."

– Robin Charest, Director of Sales and Business Development at Motrec
NexSys® batteries will be available factory-installed in all Motrec vehicle lines, which include:
"We are happy to help Motrec give their customers a highly reliable, cost-effective battery option for its entire heavy-duty vehicle line. NexSys® batteries deliver long, virtually maintenance-free lifecycles, key benefits that Motrec vehicle users in automotive, heavy manufacturing and other demanding industries can use to help cut costs."

– Tim Wittig, National Sales Manager at EnerSys®
About Motrec
Motrec International Inc. is a globally recognized manufacturer of electric industrial vehicles. Established in Sherbrooke, Quebec, Canada since 1988, Motrec specializes in state-of-the-art vehicles that are crafted to meet the exact needs of the biggest players in the industry. With a name that has come to mean durable, robust and reliable, Motrec is a leader in the material and equipment handling industry, as well as the passengers' transportation industry.
About EnerSys®
EnerSys®, the global leader in stored energy solutions for industrial applications, manufactures and distributes reserve power and motive power batteries, battery chargers, power equipment, battery accessories and outdoor equipment enclosure solutions to customers worldwide.
Read EnerSys's official announcement here.