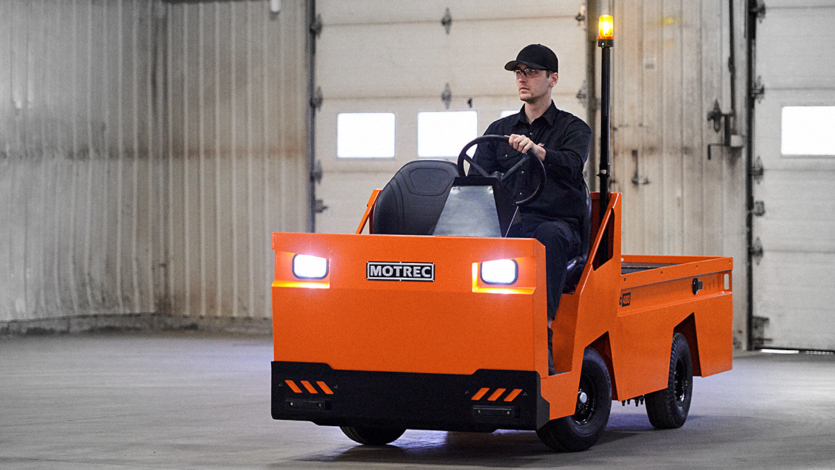 New Motrec MC-480 Burden Carriers
There are plenty of reasons why the MC-480 rules the category of electric industrial burden carriers. To start with, it's incredibly rugged and reliable, thanks to its 15 HP brushless AC motor, 6,000-lb towing capacity and up to 3,500-lb load capacity. And like all Motrec vehicles, it can be fully customized from bumper to bumper.
But now our MC-480 is also incredibly comfortable – thanks to an entirely revamped driver compartment.
See for yourself the redesigned MC-480 in action:
More ergonomic driver compartment
Complete console and improved steering position
All controls and displays conveniently right where your fingers and eyes are
Tilted steering column for a natural driving posture to reduce fatigue and strain
Adjustable steering column also available as an option to further improve ergonomics
More spacious driver compartment
Extra 3″ of leg room for greater comfort when driving
Easier to get in and out of the vehicle
Longer warranties
3-year warranty (or 3,000 hours) – among the longest on the market
Improved safety and convenience
Front rubber bumpers
Charging receptacle now on exterior of vehicle for easier access
LED charge indicator to quickly see the battery's state of charge
Large under-deck storage compartment with hinged panel for easy access
2″ deck edge with 10 anchor points to hold cargo securely in place
That's not all.
See what other value-boosting upgrades we've made to our versatile MC-480 LD and elite MC-480 models.
Or visit our product page to see all MC-480 features and specifications.
You'll also find more information about how to customize your Motrec vehicle and how to request a quote.